Malaysia east coast islands

2006-07-25



Malaysian airlines fly non-stop (12 hours), Lufthansa and Emirates stop, so you can can have a leg stretch.

I flew into Kuala Lumpur, on the West coast of Malaysia.
First some education : "Kuala" is "river-estuary", "Pulau" is "island".

Kuala Lumpur (muddy estuary) has a seriously hi-tech skyline, softened by a dense planting of trees on many of the roads. There is some good diving on the West Coast I believe, but this was the wet season for the West - Malaysia is at the junction of two different monsoons, so East and West can have different weathers.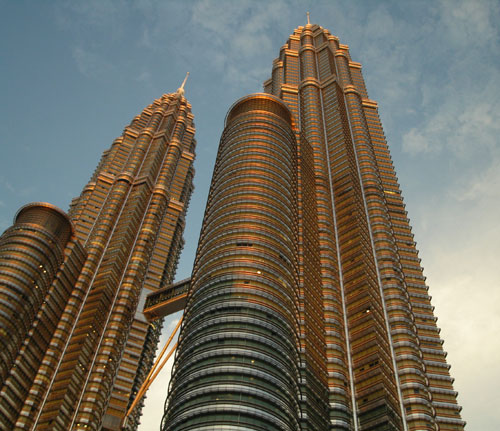 KIF 0284 Petronas-twin-towers
Stainless steel twin towers catching the setting sun.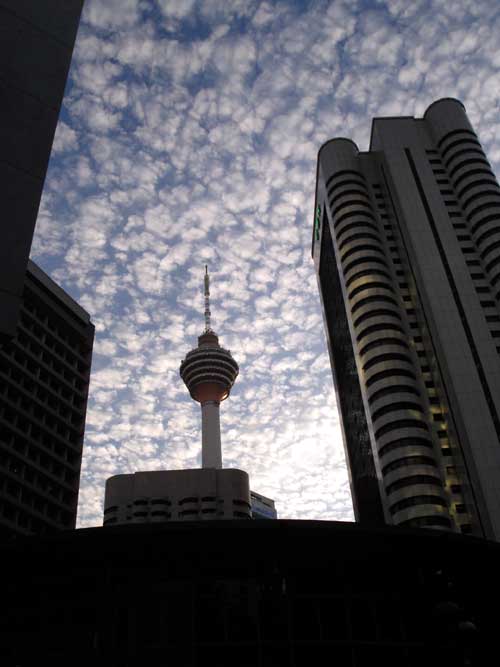 KIF 0265 KL-tower
I then immediately flew across to Kuala Terengganu, on the East coast, to join Viv, who had been out there for 2 weeks, working. A night flight of about an hour, just dense black under the plane, no lights to be seen - forest and oil-palm plantation.
Viv had booked our trip up the East Coast and to the islands with Ping Anchorage (based in Kuala Terengganu), who were super efficient, and liaised with the resorts and had people waiting with clip-boards at all our transfer points :
www.pinganchorage.com.my
We spent a couple of days in Kuala Terengganu, partly lazing by the pool to recover, but we also visited the State Museum, where I was fascinated by the history of their boats and boat-building :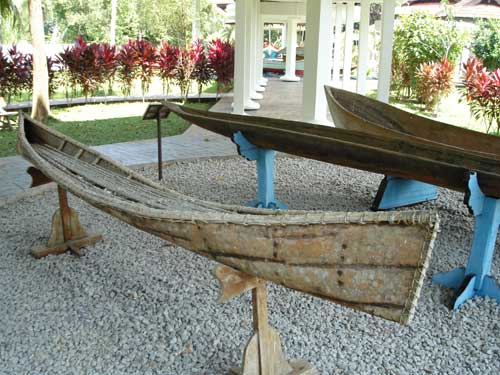 KIF 9498 bark dug-outs
A bark canoe and two dug-out boats - there is also a huge dug-out in the Stadhuys museum in Malacca.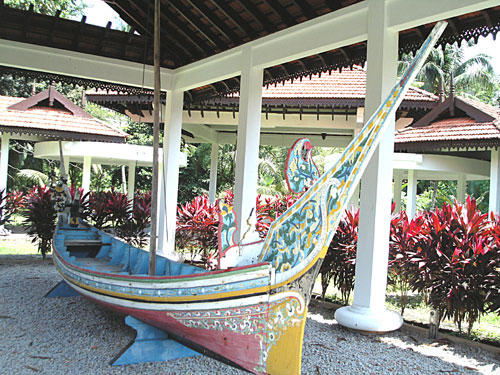 KIF 9511 Malaysian-boat
There is a long tradition of highly painted fishing boats, originally crewed by 15 to 20 people - sail and paddle powered.
They are still used today, now powered by inboard engines.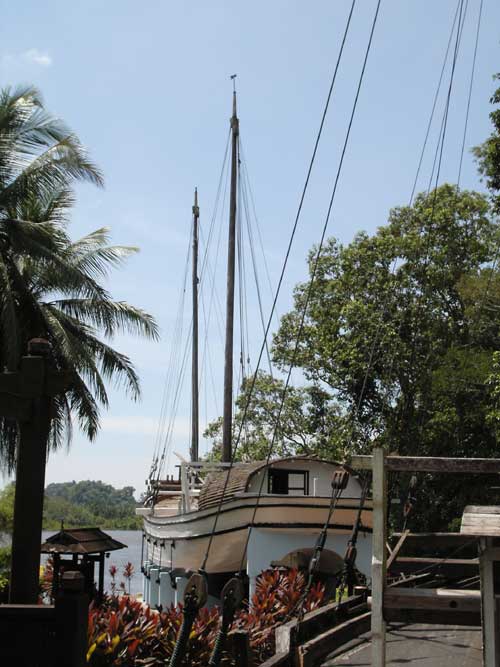 KIF 9489 Malaysian-ship
Two locally built ships, trading in the South China Sea until quite recently.


KIF 9447 Terengganu_shipbuilding
The ship-building on an island in the Terengganu river continues to today.
We had considered a number of the East coast islands - Redang is justly famous, and has some deeper water, but a friend put us off with stories of 200 snorkelers being dropped into the water at one point. So we went for smaller islands, and chose a very small resort on Pulau Lang Tengah - D'Coconut Lagoon, and a larger one on Pulau Perhentian Besar - Perhentian Island Resort.
Ping Anchorage organised us an air-conditioned coach to pick us up from the hotel and take us up the coast to Merang, a river port that is used by the boats going to some of the islands.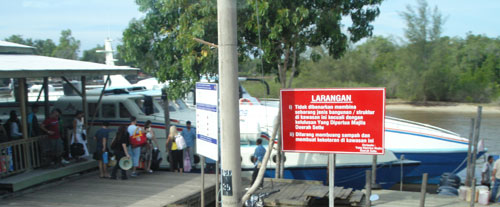 KIF 9616 redang-boats
Redang use seriously muscled boats with inboard engines for their transfers.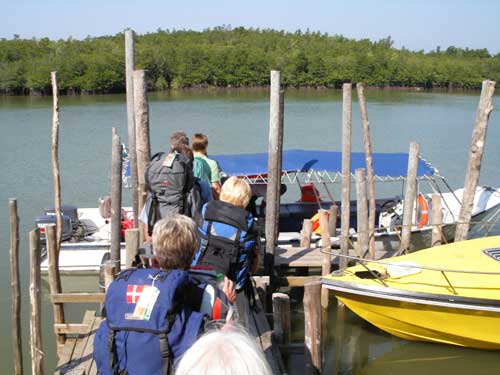 KIF 9535 embarking Lang-Tengah
Lang Tengah use much smaller boats, with twin out-board engines - well crewed, with life-jackets.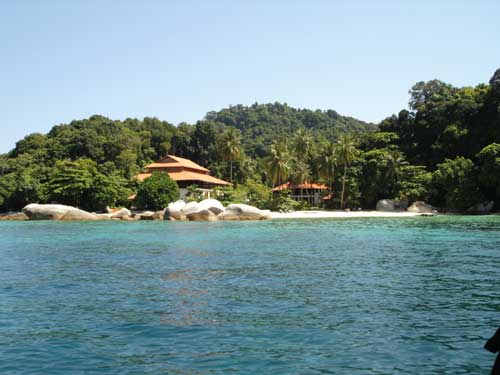 KIF 9564 dCoconut Lang-Tengah
The D'Coconut Lagoon resort on Pulau Lang Tengah is split into two bays, this smaller one, where the boats land, and the dive-shop is located, and a slightly bigger one a short walk away through the forest. We were based in this smaller one.
www.dcoconutlagoon.com/
www.pinganchorage.com.my/lang_tengah_d-coconut-lagoon.htm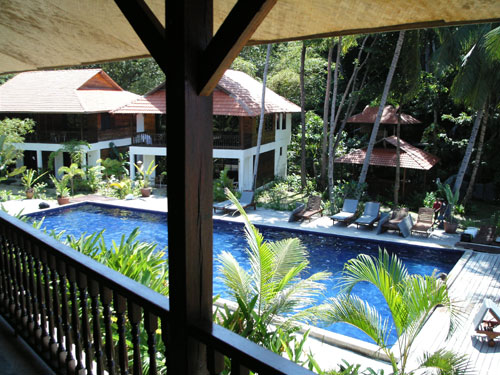 KIF 9569 swimpool dCoconut Lang-Tengah
Both bays have a swimming pool as well as being right on sandy beaches, with coral a short swim away.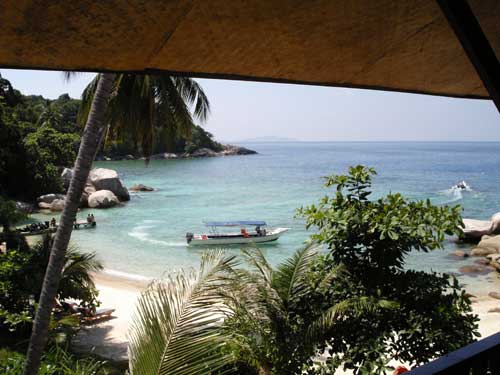 KIF 9570 bay dCoconut Lang-Tengah
Some excellent coral just in the bay.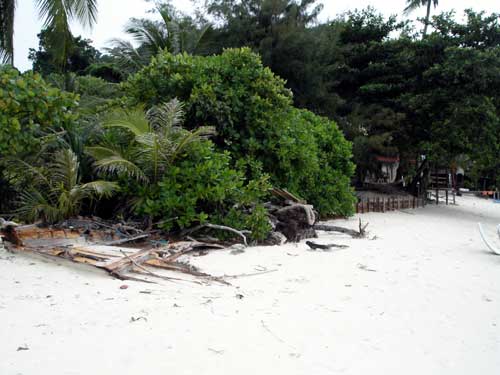 KIF 9592 wreck beach
The wreckage of an old boat, complete with engine, driven up onto the beach, only a short walk around the island.
See the dive report for our snorkeling, and my one dive here (just surface photographs I am afraid).
www.beauwebber.me.uk/dive-reports/2006/2006-07-31_Malaysia-dive1_Lang-Tengah_DCoconut


KIF 9624 river boat
Back on the mainland we again were taken by air-conditioned coach up the coast.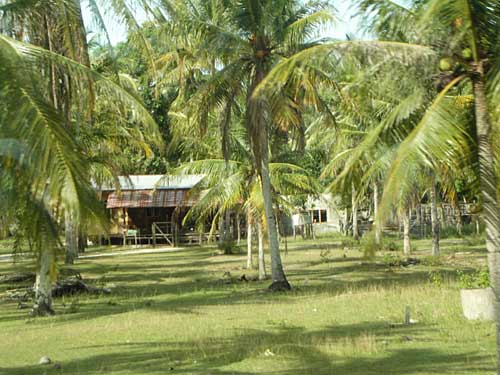 KIF 9628 house-on-stilts
Typical of houses all down this coast, very many built on stilts.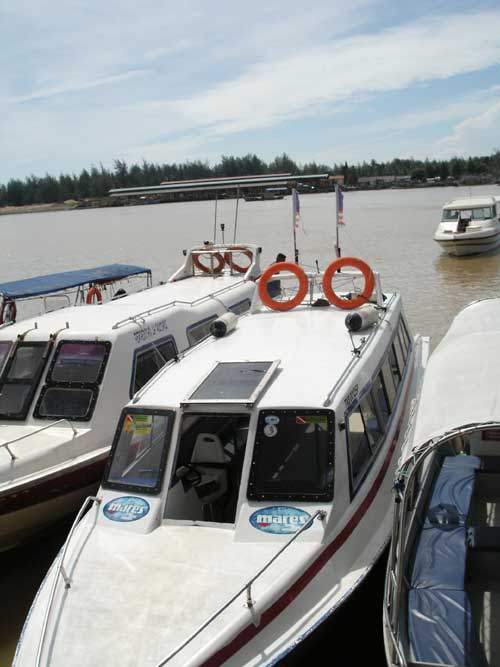 KIF 9634 embarking Perhentian-Isles
The water-taxi waiting to take us to the Perhentian Isles.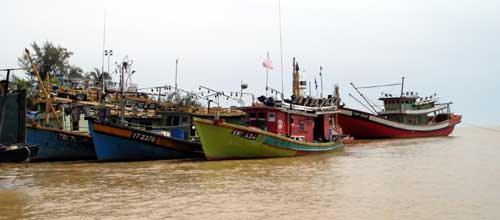 KIF 9637 fishing-boats


KIF 9658to60 beach-front Perhentian-Isles
This panorama of the Perhentian Island Resort sea-front has been badly distorted by the movement of the boat between taking the pictures.
www.perhentianisland.com.my/perhentianresort.htm
www.pinganchorage.com.my/perhentian_island_resort.htm



KIF 9728to32 porch Perhentian
The view from the veranda of our room, overlooking a small lake.
Before the sun sets, bats are flying, doing mosquito patrol.


KIF 9740to7 Perhentian-bay
The bay of the Perhentian resort - this is a 200 degree panorama, so the bay and beach are actually much bigger than they look.
The excellent house reef can be seen to the right of the bay.
The report of our snorkeling and my two dives is elsewhere, at :
www.beauwebber.me.uk/dive-reports/2006/2006-08-03_Malaysia-dive2_Perhentian-Isles_Tanjung-Basi
and
www.beauwebber.me.uk/dive-reports/2006/2006-08-03_Malaysia-dive3_Perhentian-Isles_DLagoon
I borrowed a digital camera with housing for these two dives.
Back on the mainland, we were met by an air-conditioned taxi to take us to Kota Bahru.


KIF 9769to72 fishing-boats
When we saw these fishing boats as we crossed the bridge in the distance, the driver offered to take us down to see them.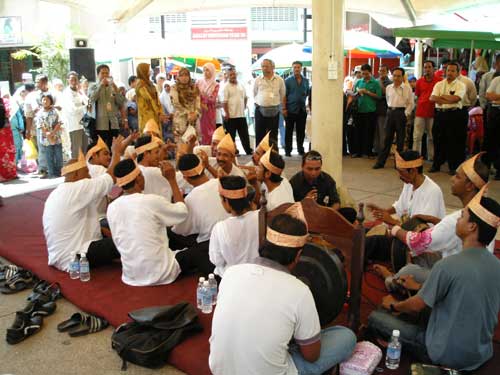 KIF 9785 canoe-singing
In Kota Bahru, in a public place with cafes, near the market, we came across this group singing. This song, accompanied by drummers, is sung with regular swaying and clapping, to a fast and very regular tempo. Led by a caller, a long song, I will take some convincing that I was not listening to the relic of a boat-paddling song, meant for the easing of covering long distances.

---
....... photos © Beau Webber unless otherwise stated
---